AGRITURISMO QUERCIA ROSSA
COUNTRY HOUSE AND B&B
Santarello di Montemerano - Saturnia di Manciano (Grosseto) - Toscana
Tel. +39.0564.629529 +39.338.7280691
info@querciarossa.net
Sovana
The archeological site of Città del Tufo includes the necropolis in Sovana, the caves of San Rocco and Vitozza, the archives in the Centro di Documentazione in Sovana and the medieval museum in Fortezza Orsini di Sorano (information tel. 0564/614074).
The earliest settlement in Sovana dates back to the end of the Bronze Age (1000-1600 B.C.). The surrounding walls which are built with blocks of local porous limestone rock called Tufo, were constructed when the city was refounded in 400 B.C., probably due to renewed trading activity with neighbouring towns in central and northern Etruria. The huge rupestrian tombs are evidence of the importance and growth of the city not long after the roman conquest in 280 B.C. The most elaborate monumental tombs are the temple shaped ones (Tomba Ildebranda, Tomba Pola) and the Tomba del Tifone, Tomba della Sirena, Tomba del Sileno, which have detailed engraved decorations.
It became a bishop's diocese in 523-526 AD, and under the bizantine dominion until the end of the 6th Century when it was conquered by the Longobards. The ciborium still preserved in the chiesa di Santa Maria dates back to the end of the 8th Century.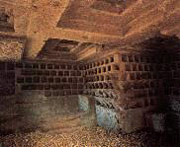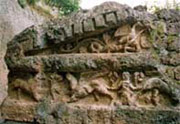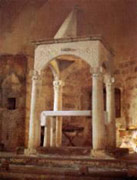 Duomo and Church of Holy Mary

- Ph. 0564/616532 -
Opening:
February-December:
10.00-18.00;
January: Sat. and Sun.: 10.00-18.00

Etruscan Museum

(Palazzo Pretorio in Piazza del Pretorio)
- Ph. 0564/633023-614074 -
Opening:
November-March: Sat. and Sun.: 10.00-16.00;
April-October: every day: 10.00-19.00

Musum of Malacology

(c/o the House of Pope Gregorio VII. Via del Duomo 47)
- Ph. 0564/616582 -
- A.M.I 06/69940814 -
Opening:
10.00-13.00 and 14.30-18.00
Closed: Tue.