AGRITURISMO QUERCIA ROSSA
COUNTRY HOUSE AND B&B
Santarello di Montemerano - Saturnia di Manciano (Grosseto) - Toscana
Tel. +39.0564.629529 +39.338.7280691
info@querciarossa.net
Pitigliano
Pitigliano is built on the tip of a rock of kind of limestone called 'tufo', beneath the shadow of Castello Orsini. The houses and cottages are still very rural and interspaced with natural caves and grottos which are mostly cellars or stables nowadays.
From the 9th century onwards Pitigliano depended on Sovana, which was the main home of the Aldobrandeschi family. The town subsequently grew in importance and in 1293 it took over the headquarters from Sovana
. Pitigliano is also known as Italy's Little Jerusalem, due to the longstanding Jewish community which has resided there since the second half of the 16th Century under the protection of the Orsini family. The Jewish Temple, in the Jewish quarter in Vicolo Manin, founded in 1598, was altered several times after 1700 and has only regained its classical form since it was renovated in 1995. The religious interior with Aron and the Tevà can also be visited. The numerous lamps hanging from the ceiling are engraved with biblical writings and epigraphs. The higher level contains the matroneo for women, while the lower section the ritual bathing area. The Kosher butcher's shop and the unleven bread oven are in caves carved inside the rock.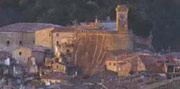 Museum

Ceramiche etrusche
- Ph. 0564/ 616322 -
Closed: Wen.

Museo Diocesano di Arte Sacra

Closed: Mon.

Sinagogue


- Ph. 0564/ 616396 -
Opening:
May-October: 10.00-13.00 / 15.00-19.00
November-April: Wed, Fri and Sun on demand.