AGRITURISMO QUERCIA ROSSA
COUNTRY HOUSE AND B&B
Santarello di Montemerano - Saturnia di Manciano (Grosseto) - Toscana
Tel. +39.0564.629529 +39.338.7280691
info@querciarossa.net
Manciano
Manciano Manciano lies between the valleys of the Fiora and the Albegna rivers. The first traces of its existence date back to Aldobrandeschi land deeds in 973 AD, and it developed as a town towards the end of the 13th Century. The Aldobrandeschi family began building the surrounding walls in this period, and an imposing fort at the top of the hill which still bears their name. It is a huge quadrangular fort, with typical castle battlements and a mighty tower, the Cassero, which is the oldest part of the castle and dates back to about 1350. There is Ancient History Museum with the remains of the 300,000 year old teeth of an Elephans Antiquus (related to the Mammuth), together with numerous lithic relics, all proof of the presence of Homo erectus atleast 500 thousand years ago and two valuable axes from the Bronze period.

On the road from Manciano to Pitigliano is the site of Poggio Buco, probably identifiable with the roman city of Statonia: with blocks of the remaining wall stretching for about 3 kilometers. Outside the city is a sacred area of with a temple and various buildings. These are surrounded by an impressive necropolis, with a variety of different kinds of tombs.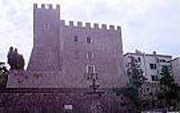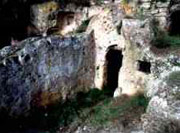 Museum of Prehistory and Protohistory of the Valley of the Fiora River

(Via Corsini 5)
- Ph. 0564/625327 -
Opening:
Thu.-Sat.: 9.00-15.30
Sun.: 9.30-13.00
Closed: Mon.

Historical Museum Soc. Filarmonica "Pietro Mascagni"

(Poggio Murella Via Corsini 1)
- Ph. 0564/607977 -
Visits on demand.